Image Courtasy of the artists Brák Jónsdóttir & Dúfa Sævarsdóttir.
You are cordially invited to an evening of performances at HIAP, Helsinki on 8 September to celebrate the journey from Tallinn to Reykjavík on the occasion of the Sequences XI biennial. Where Brák Jónsdóttir and Dúfa Sævarsdóttir, artists from Iceland, will perform Pleasure Isle, where the act of flirting feels like oxygen and the atmosphere is filled with extreme, exhilarating joy. It's the kind of joy you find in the hearts of soul sisters, surrounding the deep friendship between women. This kind of cherished connection has been celebrated through the centuries, and still is, world wide. 
Artist duo Brák and Dúfa invite you to step onto the Pleasure Isle and become part of their narrative, perhaps you will get a sense of rising or expanding, even to the point of light-headedness. The creative endeavors of the duo delve intricately into the multifaceted interplay of love and its connections, whether with individuals or the natural world.
Sequences XI edition will be opening on October 13 with a 10 days festival of performances, concerts, exhibitions and more. Exhibitions will be open until the 26th of November For the first time it will be curated by Estonian curators, with an emphasis on involving artists from the Baltic region. 
On September 8 we are inviting you to a peek-a-boo event in HIAP, Suomenlinna as we have started our journey from Tallinn to Reykjavík and would like to stop on our way to gather for an evening of performances, food and music.

Event schedule
18:40 Ferry to Suomenlinna (As the performance starts right after ferry arrives, we suggest taking this particular ferry)
19:00 Brák Jónsdóttir & Dúfa Sævarsdóttir "Pleasure Isle"
19:45 Welcome words from Sequences XI curators. Food and drinks are served*
20:30 Live performance and DJ set by ang3l_sp1der (Miša Skalskis) and Cucina Povera (Maria Rossi)
*The food will be prepared by Jakub Bobrowski from HIAP and will be vegan and gluten free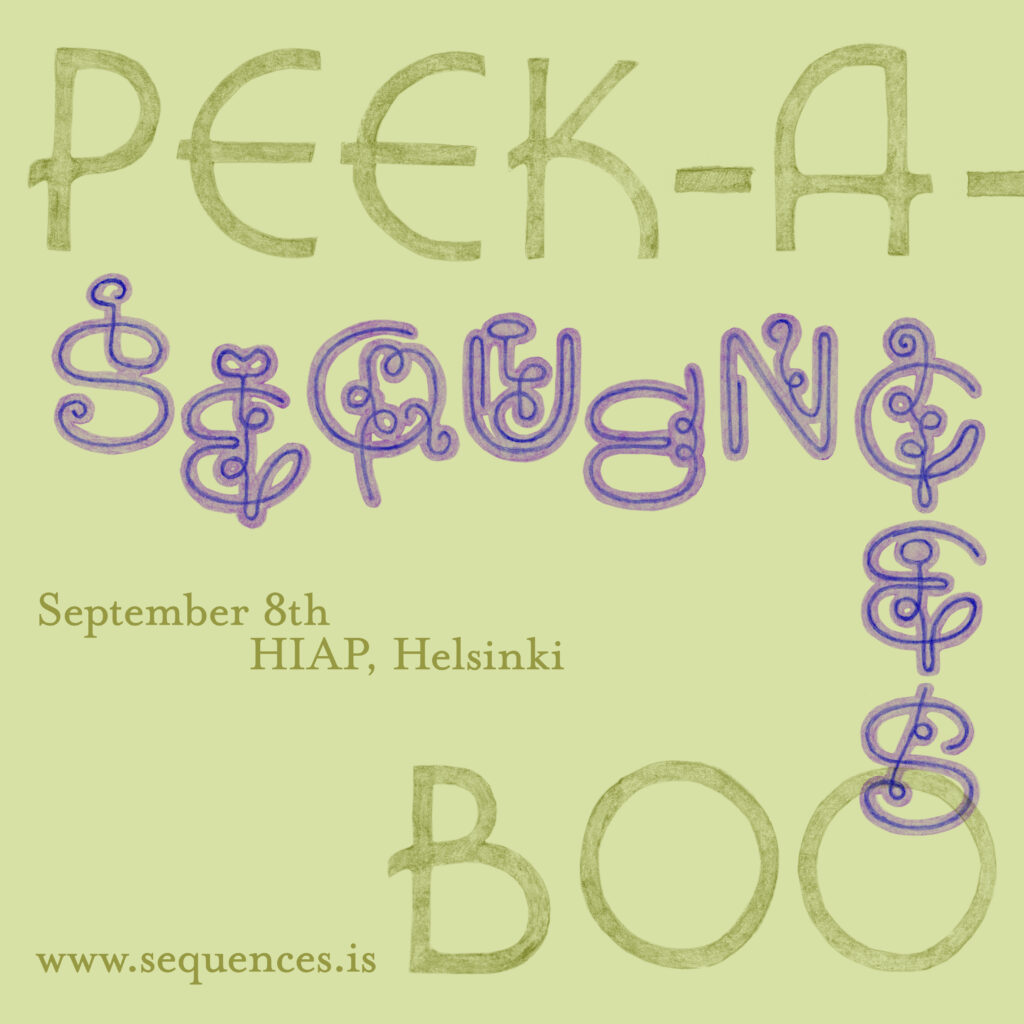 About the curators
The curatorial collective is formed by four Estonian based curators and writers: Marika Agu, Maria Arusoo, Kaarin Kivirähk and Sten Ojavee who have worked together since 2017 at the CCA. More clearly, they defined their platform in a collectively curated exhibition A-tishoo, A-tishoo, We All Fall Down (2019) which exhibited in EKKM, the Contemporary Art Museum of Estonia. Other than this, they have curated and organized lecture series, seminars, article series, public art projects and video events. As curators they have different backgrounds, spanning artistic practice, social theory, philosophy, art history and semiotics. They have teamed up to bring together different experiences and ways of thinking, to save resources and reduce overproduction. They believe that working together rather than as individuals allows us to create more sustainable models of working.